1) Seems some AOES can be used to hit players while they are inside a central keep. I am assuming this is a bug.
2) This is a rule question because I honestly don't know. Can players bring their bots along with them to roam around the frontiers and take keeps and towers with them, and even use them to help them in pvp/rvr fights? Like healing or Damaging from their bot while their main is also attacking you?
3) WHY are there ALB guard monsters at the mid boarder keeps in frontiers?!?! They came from inside the keep walls and attacked my bot and me!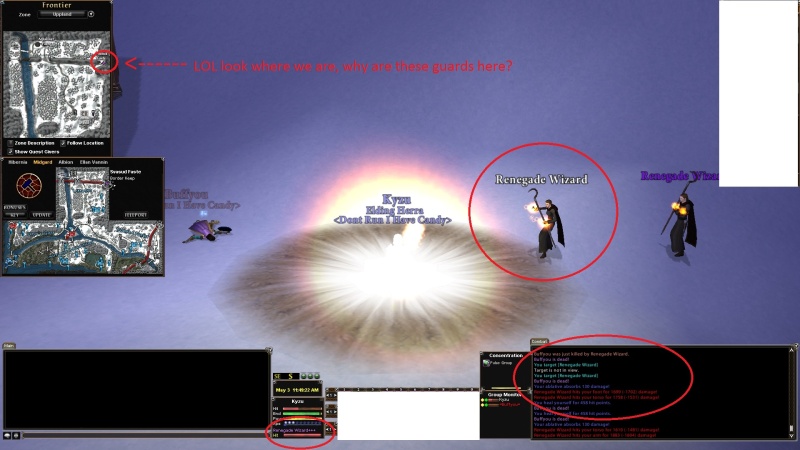 Posts

: 28


Join date

: 2015-12-02



Hey This is Nalfgar (sorry using friends very old forum Account)
My Computer is broke so im lacking in online presence
You made a few good points:

1.Right the Aoes hit through the gates like Bombs did on live.
But couse to much spells and abilities doing that i try find a solution on that but could take a while.
Couse easiest fix isnt best sometimes infact much things using same resources and before i fix i want make sure it dont return in broke something else.

2. Good question as i pointed earlier Ingame you are allowed to have a buffbot at portal keeps like Svasud Faste / Vindsaul Faste / Druim Ligen / Druim Cain / Castle Sauvage / Snowdonia Fortress as long you RvR / raid Keeps & Towers
But as long you PVE in Frontierzones Bot may stuck to you but not used on inc.
These Rules may look odd to some guys but i xplain why:
Couse our Server is rising now we need make sure all Players have fun here doing RvR and such. But some Player dont have good Computers or money to get one. So the Bots may help you PvE but in RvR skill wins not RealifeMoney.
You may log as much chars as you want in PvE but you are not allowed to use Macro Programs. (chant twisting tool and such is ok but if you use tools that allow you to run Fullgrp as one player then you using a macro tool thats not allowed)

3. i was removing those guards from main portal keeps as i crashed and going to finish that soon as im back! (but note those not alb mobs they are realm 0 that means they are realmguards of an undefined realm. They allways named Renegade ''Class'')



Posts

: 5


Join date

: 2015-07-07






Posts

: 8


Join date

: 2015-11-19


Age

: 37



thanks couse my computer is fixed tomorrow but need new graphic card and that could take a few days- week
and with onboard graphic card its not possible to work ingame



Posts

: 5


Join date

: 2015-07-07



ok well i got all but the hibs ones. and was this you that logged in yesterday with Admin?



Posts

: 8


Join date

: 2015-11-19


Age

: 37




---
Permissions in this forum:
You
cannot
reply to topics in this forum