HERALD
Need Level 50 to join the class, will be level 1
4290 Skills Points @50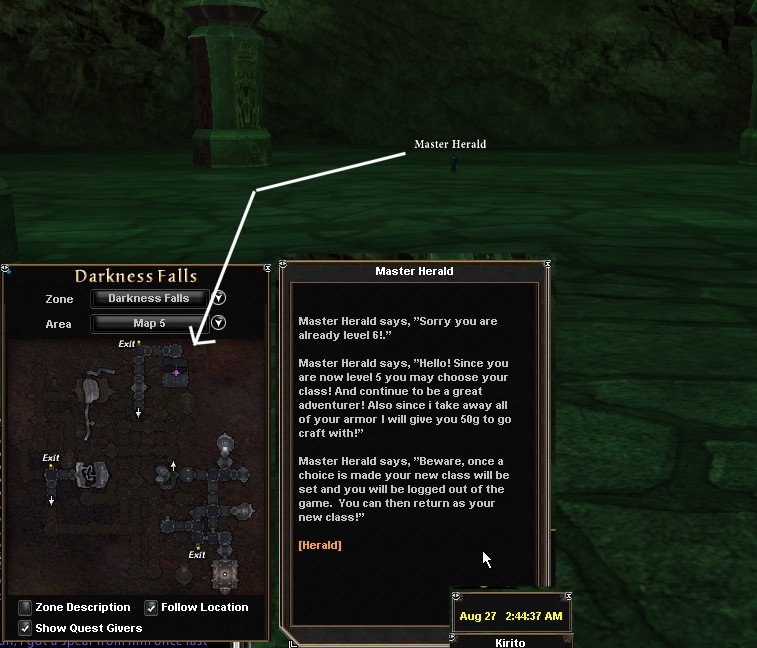 Stat:


Armor Ability: Chain
Shield Ability: Large Shield
Weapon: Staves
Weapon: Axes
Weapon: Hammers
Weapon: Swords
Weapon: Instruments
Protect
Engage
Guard 3
Tireless
Taunting Shout (Active - frontal cone taunting enemy; recast: 20sec)
Stag IV ( Active - like hero, take the Stag form gaining +50% hp for the duration of 1:00 min, recast 3:20min)

SKILLS
Leadership @50:


1 - Taunt (Taunt, Range 1700, Recast 15 sec)
34 - Absorb of the Herald (ABS 20; Permanent; Casting Time 16.0; Power 34)
40 - Herald Painful Aura (Damage Shield 20; Permanent; Casting Time 10.0; Power 29)
42 - Enduring Herald (Regain Endurance 50; Self; Istant; Recast 10 sec)
44 - Herald's Shield of Rejuvenation (Defensive Proc 100; Range 1500; Duratin 200:00 min; Casting Time 10.0; Power 45)
47 - Absorb of the Herald (AF 500; Permanent; Casting Time 25.0; Power Cost 60)
49 - Herald's Elixir (Heal over Time 67; Self; Duration 20sec; Frequency: 2.0; Power 50; Recast 25sec)

Shield:


10 - I Will Help! (Opening: Any; Heal Group 75, Radius 350; Range 500)
30 - Live! (Opening: Front; Heal Group 100, Radius 250; Range 1000)

Custom Sword:


1 - Assault (Opening: Any; Omnidrain Aoe 50)
2 - Unstoppable Force (Opening: Any; Stun 10sec; Radius 2)
49 - Sif's Revenge (Opening: Any; Stun 7sec)
From lvl 3 to 45 nothing particular on all the styles exept some side bleeding, has no opening

Custom Hammer:


1 - Thor's Anvil (Opening: Any; DD Aoe 20; Radius 250)
32 - Comminute (Opening: Any; DD Aoe 65; Radius 350)
Others Hammer styles are almost the same than the Warrior Hammer spec

Custom Axe:


1 - Splitter (Opening: Any; DD Aoe 20; Radius 250)
12 - Hoafrost (Opening: Any; Detaunt 3%; Heal Group 130; Range 1000; Radius 500)
29 - Havoc (Opening: Any; Followup: Tyr's Fury; DD AoE 55; Radius 350; DD AoE 65; Radius 350
Others Hammer styles are almost the same than the Skald Axe spec

PARRY
RVR
Master Levels:


Banelord
Convoker

Realm Ability:


Augmented Strenght
Determination
Long Wind
Mastery of Pain
Physical Defense
Ignore Pain
Purge
Reflex Attack
Thornweed Field
Wrath of the Champons




Posts

: 65


Join date

: 2015-08-22


Age

: 32


Location

: Italia, Brescia



very very cool

i'll try to send you some stats of other classes to work your forum magic upon!

linky:
http://realmofdarkness.userboard.net/t104-post-your-favorite-screenshots-postcards-from-rod-and-pics-here#411



Posts

: 86


Join date

: 2015-08-19


Location

: Pacific Timezone (gmt-8)



nice, ty




Posts

: 65


Join date

: 2015-08-22


Age

: 32


Location

: Italia, Brescia



very tanky class. with rr4+, axe specced to 50 i have problems hitting high level mobs with lev 29 style :/ unable to keep agro, expect the selfhealings from chant spec. would like to see an update for that class. damage shield damage is to low too.



Posts

: 3


Join date

: 2016-08-20




Similar topics
---
Permissions in this forum:
You
cannot
reply to topics in this forum