i'd like to put down some of the information that we usually have to repeat a lot ingame, here in a compilation of info in one place, about what the classes are, how to get them, what it takes, etc, to avoid confusion and for ease of new players use.  
following that i think we should put down a brief description of each class and what it does, how it plays, etc.
so, to begin:
as of today, we have these classes, and their requirements of lvls:
Templar and Herald, level 50 any race, any realm
Corruptor, level 50 any race, any realm
Tankard, level 50 any race, any realm
Beastmaster, level 50 any race, any realm
then, the three TOTALLY BLANK custom classes:
Deathmage,  level 50 any race, any realm
Marauder,  level 50 any race, any realm
Crusader, level 50 any race, any realm.
in addition to Leggera's "Quick Start Guide" post elsewhere on the forums, a bit of advice for the new player to the server:
make a class that is hard to kill, can either stay alive with multiple adds on it in PvE, or has a lifesteal ability or instant heal that will let you chain-kill to farm xp, rps/bps and coin.  
for some examples, people seem to do well with Paladins

, Reavers  

, Necromancers  

, and some caster classes that can either farm consistently, or kill while kiting, like animists

, mentalists

 Cabalists

 etc, with Dots, or the ability to kill more than one mob at a time.  -pure nukers like eldritch or wizard etc  

, require much more skill due to the aggro ranges and number of baffing mobs on the server.
How to get them:
you will find the trainers for all custom classes down in deep Darkness Falls, behind, highlords, Princes, and Legion himself.
(if someone is having trouble getting to a trainer, we try to help escort players down to trainers when we can.)
Im going to try and post a map of DF with trainers marked on it, because its so much easier to explain, and also because exact locations wont spoil anything, because you have to be able to kill the trainer's guardian bossmob to be able to use it (unless you get lucky and sprinting pays off lol).  all the same i'll mark it with a spoiler tag in case die hard explorers want to find them themselves.  
spoiler-----
>
>
>
>
>
>
>
  Full DF trainer map: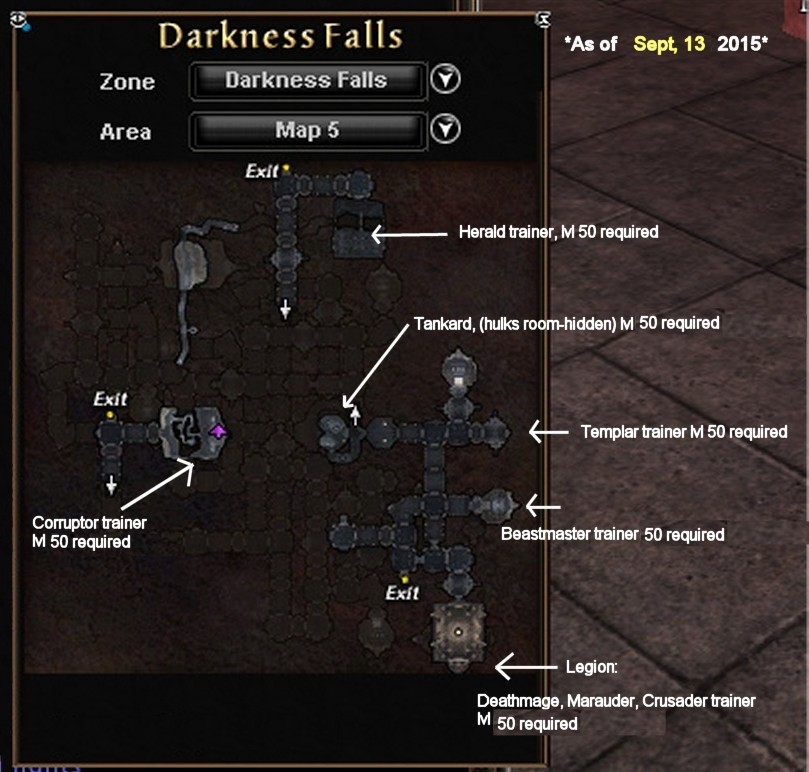 >
closeups/confirmation some info on these is outdated, see nerull's class guides for more updated info:
Templar: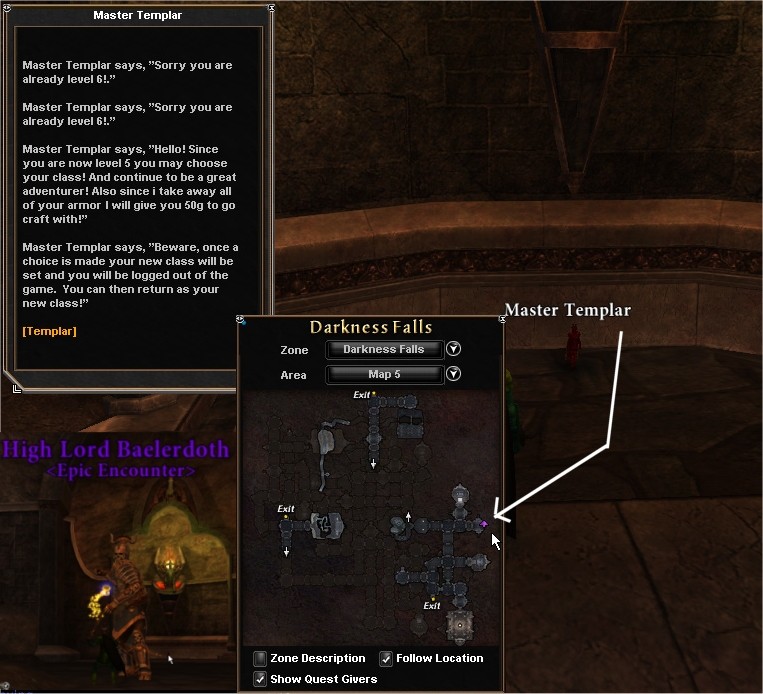 Herald: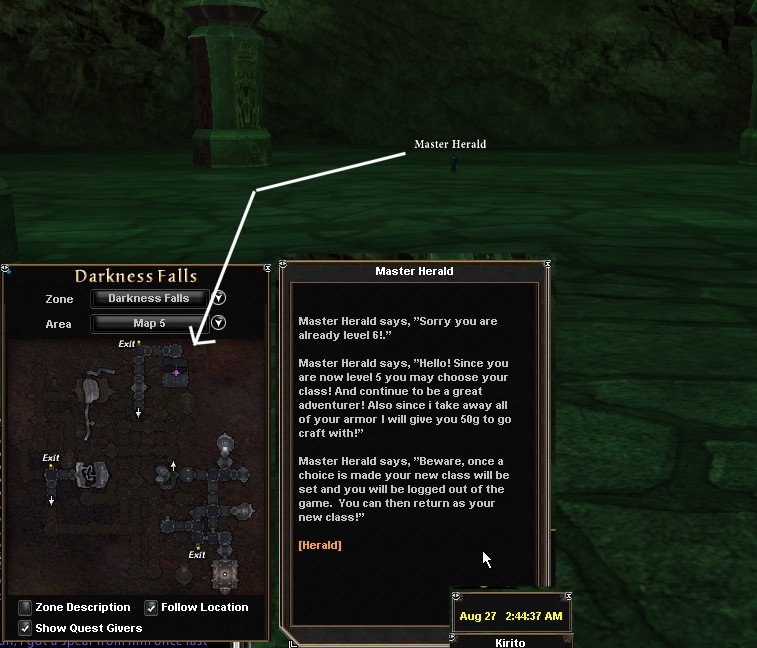 Corruptor: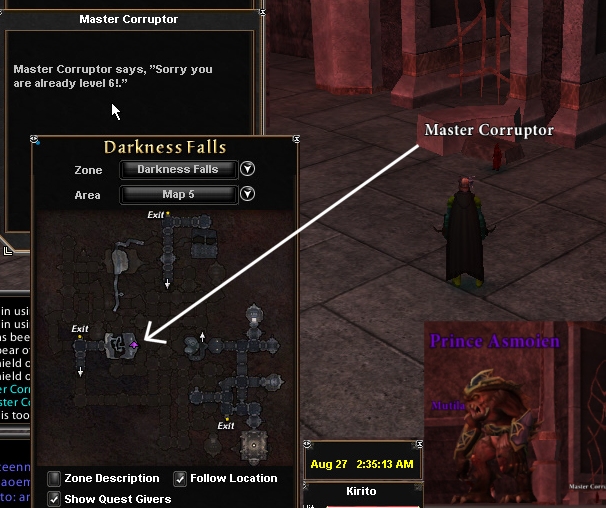 Last edited by Inthebeginning on Sun Sep 13, 2015 9:27 pm; edited 3 times in total
<reserved>
also im sure i'll forget things, please add to this topic and i'll work it into the list etc, feel free to write entire descriptions entirely

 im far FAR from the best player here, and i know it

I also want to link to Leggera's quick starter guide here too, good info! -
Leggera's quick start guide
Another thing we say alot ingame is the OTD drops locations, here's a link to the admin approved topic for that info:
OTD drops admin approved  -locations info
Last edited by Inthebeginning on Wed Aug 26, 2015 11:06 pm; edited 4 times in total
Last edited by Inthebeginning on Mon Aug 31, 2015 5:29 pm; edited 1 time in total
I thought beastmaster needed lvl 50 since before when it was a hib only class, we needed a lvl 50 to get it (just like herald <mid> and temblar <alb> use to be [and still is])



Posts

: 51


Join date

: 2015-05-29



beastmaster escort today got it at lvl 5, i have tankard (lvl5) also, and my templar (post wipe) got templar at 50.
we can re-read the trainers in df, but since beta, at least in the last month or so, i've not heard of any changes to required lvls from Admin. Be sure to post here for us if you find one thats different though, thanks pmurry67

sweet

 now that we have Admin approval for the maps, i'd like to go ahead and ask for ppl to give a description of the custom class they play, "its like a (thing)  but with double the (stuff) and a few less (somethings)"   etc, just general notes on what its like will do great

some things: to have a "decent" guide, i suggest to:
- move the post under "Classes" area in the forum (class details)
- Write down what every single class obtain: ability (stoicism, parry, evade 1/2/3, armor type ecc ecc)
- Write the spec line the classes have (like the templar one, and the special sword spec for example, ecc ecc)
- write down the RA allowed by thoese classes...
- write down the Skill x lvl growth
done an example here
http://realmofdarkness.userboard.net/t112-templar-overview#401
can we have a topic for each of the 9 classes or at least 1 with the 1st post as a menù jumping to the 9 classes?



Posts

: 65


Join date

: 2015-08-22


Age

: 32


Location

: Italia, Brescia



ok, a lot of this info is different now,  see Nerull's thread/class descriptions in the server info forum,
i'll get him an updated map picture soon

got a new one posted up there, and made a few changes to my own post on it too. you've got to see what nerull's been doing , its amazing


---
Permissions in this forum:
You
cannot
reply to topics in this forum